Nexel Industries Storage Products
High-Quality storage and handling equipment
NEXEL Industries manufactures storage and handling equipment, including the strongest wire shelving in the industry. Products include storage bins, racks, shelving, seating and more. The wire shelving is not only strong but also is available in 40 standard sizes and an array of finishes. The wide variety offers storage solutions for all industries, including medical, food, industrial and commercial.
Contact us for your pricing. Call 888-609-8812.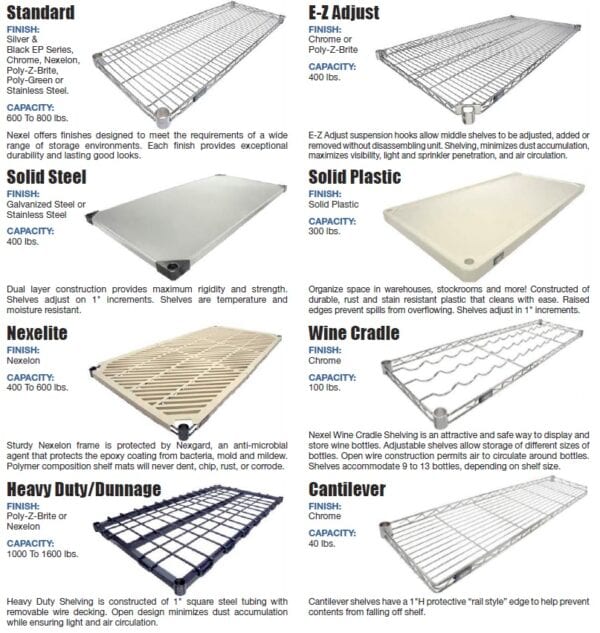 Standard Wire Shelf
Unique design offers high volume, easy access storage in a variety of finishes to suit your needs. Open wire truss reinforced shelves feature front to back welded surface ribs for added strength. Increases light penetration, free air circulation and merchandise visibility. Minimizes moisture and dust accumulation. Easily adjustable and expandable to change with your needs. Shelves adjust on 1″ increments.
Our EP series carries a limited seven year warranty against rust and corrosion and available in Silver (EP) and Black Epoxy (B). NSF listed for both wet and dry applications. Starter unit consists of four shelves and four posts.
NEXEL offers finishes that are designed to meet the requirements of a wide range of storage environments. Each finish provides exceptional durability
and lasting good looks. Whether your needs are one-fold or varied, we offer a finish that will compliment your working conditions.
Heavy Duty Shelving is ideal for high density storage. Maintenance free construction. 2400 lb. capacity unit, 1300 – 1600 lbs. capacity per shelf depending upon size. Adjustable on 1″ increments for maximum versatility. Open design minimizes dust accumulation while ensuring light and air circulation. Shelving consists of four posts and four shelves with plastic shelf clips. Dunnage Shelves are constructed of 1″ square steel tubing with removable wire decking.
Other Shelving Solutions
Cart Covers
Helps keep contents dust and dirt free. Made of water resistant, 400 denier nylon or 10 gauge vinyl with reinforced corners and double stitching for maximum durability.
Enclosed Wire Shelf Trucks
Complete truck consists of four shelves, four posts, side and back panels and swivel casters
Chrome finish panels keep contents securely on shelves and creates an enclosed storage environment
Includes joining clips to secure panels to each other
Wire Bin Dump Shelving
An easy access modular storage system that is both time and space efficient. Full view open design provides inventory control at a glance. Position side-by-side or back-to-back.
Cantilever Shelving
Cantilever Shelving System consists of a pair of upright frames, including the base shelf assembly.  Nexelon wire shelves and bracket arms in straight or incline type. Can be used in coolers, freezers as well as dry storage areas.
Wide Span Shelving
Low cost wire and wood deck bulk storage racks are space efficient to make maximum use of your storage area. Extra high, wide and deep racks accommodate a variety of sizes and shapes. For use in retail, commercial and industrial applications.
Contact us for your pricing. Call 888-609-8812.
Other Material Handling Solutions
Wire Security Shelving and trucks
Store valuable equipment and inventory. Open 2″ square grid mesh ensures high visibility, while lockable double door (opens a full 270°) keeps contents protected
Computer LCD Cabinet
This heavy duty unit provides secure storage for LCDs up to 24″ or CRT monitors up to 21".
Plastic Service Cart
Rugged structural plastic cart won't rust, dent, peel or chip, so it's great for all types of applications including industrial, medical, and food preparation.
Space Wall System – Wire Grid
Space-Wall is a system of wire grids that can be mounted directly on the wall.
Contact us for your pricing. Call 888-609-8812.